I spent an exciting day at the
Leather Craftsmen
facility in Santa Ana. This place is so awesome! Here's a quick photo from my camera phone...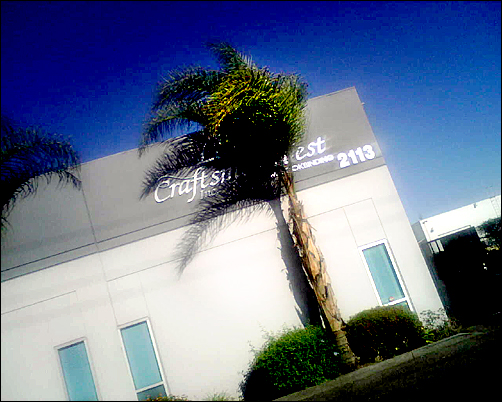 Leather Craftsmen is a custom bookbinder that makes both traditional and ultra-modern wedding albums. It's interesting to see some of the most contemporary coffee table books being made in the same tradition as books over a hundred years ago. Ira, who led us on the tour, was taught the craft in New York by a fifth-generation bookbinder.
The craftsmanship that goes into each album is truly remarkable. Every album is completely hand-made. They glue each page by hand, then the pages are hand-bound, and the edges are smoothed and polished. The spine is rounded using a hammer, the leather or fabric is stretched onto the cover that goes around the pages, the cover is then imprinted if desired and voila! That's an oversimplification since there are lots of steps in between - but you get the picture. It's amazing to see everyone at work - each step requires extreme precision.
And each album comes with a lifetime guarantee!
Polka Photos is very excited to be offering Leather Craftsmen albums.
Your photos tell your story. Leather Craftsman makes your story into a beautiful book.
Thank you to everyone at Leather Craftsman including Joe Fiore who answered all of my questions, Dan Hammel who taught the design class, and Ira who led the tour.