Polka Photos has been nominated for Fox LA's Hot List!
Please vote for us here:
http://myfoxla.cityvoter.com/Details.aspx?business=56709
THREE easy steps to vote on MyFoxLA
:
1. Click on the vote button.

2. Fill in your email address & press Send My Ballot.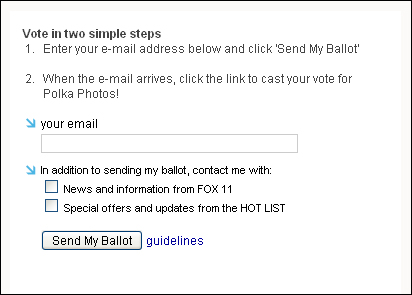 But wait, you're not done yet.....

3. Fox requires confirmation of votes by email.
Go to your Inbox, open up the email from Fox and click the link in the message confirming your vote.


Thank you!!!!
Vote by Friday Nov. 23 and then send me an email at info @ polkaphotos.com & you'll be eligible to win a prize! For former clients, I'll be giving away one 8X10 print. Everyone else is eligible to win either a set of Hallmark cake pulls or a photo album!
There will also be another prize for best comment as judged by Michael. So if you are writing a comment, please email me at info @ polkaphotos.com with your name and a copy of the comment you left on MyFoxLA to be entered in the prize giveaway.