I love photographing the wedding day, the hustle and bustle of getting ready, the raw emotions during the wedding ceremony, the fast moves on the dance floor, and the quiet moments when the bride and groom share a kiss and they think no one is watching. At the end of the day, I want my photos to tell the story of your wedding.
Although I consider my style to be photojournalistic, I do take posed photos during a wedding. But even during these photo sessions, I'm looking to capture the bride and groom's personalities. This shot is from Melissa and Mark's wedding near San Diego. Mark loves fishing and borrowed a pole from a fisherman on the dock, while Melissa pretended to not be happy with him (although in her vows she said he can go fishing whenever he'd like, as long as she can go shopping).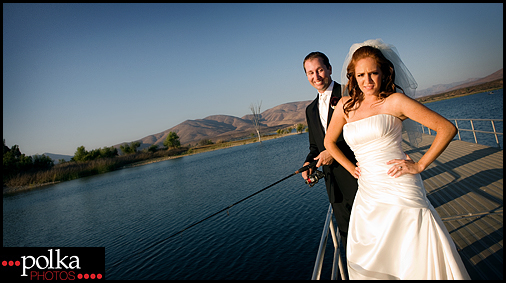 P.S. This is my new blog series called Encore!
When I blog about a wedding or portrait session, I try to arrange all the photos to tell a story. Sometimes great photos don't quite fit. Encore! will feature one (or two!) of those photos every Friday.