My goal with every wedding is to tell the story of the day. I love capturing not only all the moments but also all the emotions from nervous excitement to unbridled joy. But my job isn't over on the wedding day.
After each wedding, I spend hours and hours editing photos. After I pick the best ones, I color correct them in Photoshop. Some photos may work better in black and white or with the color tweaked a little. I take my cues from the style of the wedding day as well as from the images themselves. If a wedding has vintage touches, I'll tone some of the photos to suggest a different time or mood. I do not work from pre-set actions so the images are truly unique to each wedding. Here's a portrait of Claudia and Tony toned in four ways: modern color, sepia updated with a splash of color, grainy print reminiscent of film, and a cool other-worldly blue. Which one do you like the best?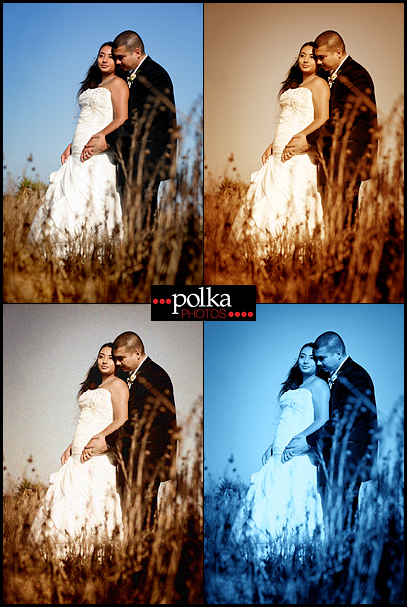 P.S. This is my new blog series called Encore!
When I blog about a wedding or portrait session, I try to arrange all the photos to tell a story. Sometimes great photos don't quite fit. Encore! will feature one (or two!) of those photos every Friday.