Lord Alfred Tennyson said "A happy bridesmaid makes a happy bride." That's just as true today as two centuries ago. The bride Bernadette was quite happy with these beautiful bridesmaids at her side. In this photo, they are looking from afar as the bride waits for her groom.
Bridesmaids
- and groomsmen - are often the unsung heroes of the day. The best man at our wedding literally put out a fire when a napkin that was thrown next to a candle went up in flames. As a photographer, I don't want to bother the bride with too many questions. Bridesmaids are the best when it comes to helping me hang up the wedding gown for photos and finding the jewelry for detail shots.
Are you a bridesmaid? There's a blog written for you in mind,
Twirl Talk - The Bridesmaid Blog
, which is where I found this great quote
"Behind every dazzling bride is an effective crew of bridesmaids – the ladies who help the wedding loveboat sail without snags."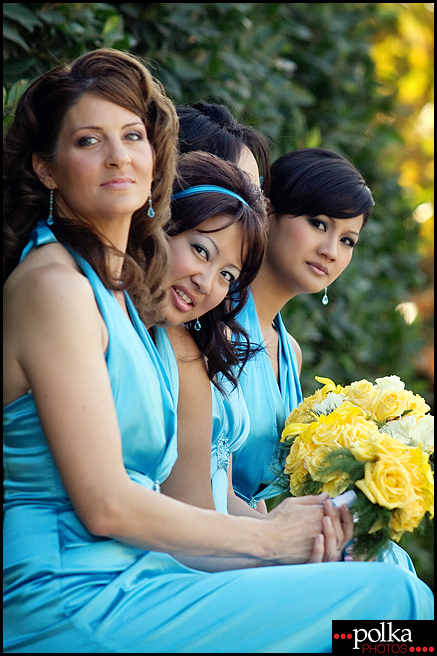 P.S. This is my new blog series called Encore!
When I blog about a wedding or portrait session, I try to arrange all the photos to tell a story. Sometimes great photos don't quite fit. Encore! will feature one (or two!) of those photos every Friday.