I have some very exciting news to share with you next week. And I thought this would be the perfect Encore! image to go with that news.
Wedding photojournalism is about capturing the moment, perfect with all of its imperfections. This week's photo shows the usually shy ring bearer jumping off the stairs to the shock of one bridesmaid. It's a rather busy image. If I had directed the photo shoot, I would have removed the items from the banister, moved the luggage and hid the cords. If I had more than a second to capture the moment I would have swung the camera a little to the left to get all of the bridesmaids in the frame. But the moment wouldn't have been true if I moved everything out of the way and asked the ring bearer to jump again. I love that this photo captures life as it's happening.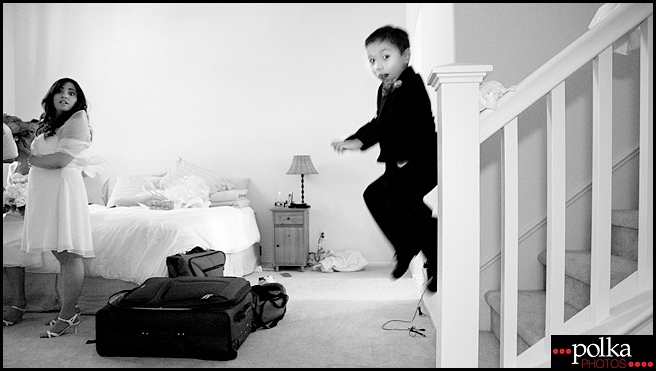 P.S. This is my new blog series called Encore!
When I blog about a wedding or portrait session, I try to arrange all the photos to tell a story. Sometimes great photos don't quite fit. Encore! will feature one (or two!) of those photos every Friday.